Hunter Mini-Clik™

The world's most simple, accurate, rugged and reliable rain sensors
There's nothing more embarrassing – or more wasteful or costly – than an irrigation system that runs when it doesn't have to…in the rain. And the simplest, most effective way to prevent your sprinklers from coming on during or after precipitation is the Hunter Mini-Clik®. Easily installed on any automatic irrigation system, Mini-Clik® shuts sprinklers off in a storm and keeps them off, automatically compensating for the amount of rainfall that occurred. Disks absorb water and then expand proportionally to the amount of rain that fell (e.g., a small cloudburst would result in little absorption, a thunderstorm with 6" of rain would lead to more absorption and thus more expansion). As the moisture-laden disks expand, they eventually activate a switch that interrupts the circuit from the controller to the solenoid valves. Once dry, they contract and release the switch. Thus, the Mini-Clik® automatically resets without ever affecting your controller. Built to withstand the harshest conditions, there's no better way to ensure that your system isn't watering when it isn't necessary…no wonder the Mini-Clik® name has been synonymous with rain sensors for more than two decades.
Hunter Rain-Clik™

The reliable rain sensor with instant shut-off
The reason to install a rain sensor is so an automatic irrigation system that is scheduled to run will be able to shut off and NOT run when it is raining, right? However, most rain-sensing devices must first accumulate a set amount of rainfall before a switch is activated that interrupts the circuit from the controller and shuts off the system. In that "accumulation time," the system will continue to water, giving the appearance a precious resource is being wasted…exactly the opposite impression a municipality, a business or an upstanding citizen would like to convey. Only the Hunter Rain-Clik™, with its unique Quick Response™ feature, can command a controller to shut off immediately – not after a quarter- or a half-inch, but right when it starts to rain. And, unlike any of its competitors, the Rain-Clik™ can be mounted in a variety of ways: on a rain gutter, on conduit, with a telescoping extension to bring the unit away from an eave, or in the standard method on a flat vertical surface like a wall or fence.
Hunter Wireless Rain-Clik™

The first reliable wireless rain sensor
If the thought of running wires from a controller has kept you from adding rain sensors to your systems, now there's a hassle-free alternative. The Hunter Wireless Rain-Clik™ attaches quickly and easily and delivers a dependable way to ensure that your landscape isn't getting water when it doesn't need it. Simply install the receiver unit next to your irrigation controller, then install the transmitter anywhere that the device can receive representative rainfall. No ladders needed to attach to a high outcropping on a building, no messy wires to hide out of view. What could be more simple? What also sets a Hunter Rain-Clik™ apart are features no other rain-sensing device offers. The unique Quick Response™ feature allows the product to shut off immediately when it starts to rain. And, unlike its competition, Hunter's sophisticated sensing mechanism cannot be fouled by debris, giving the Wireless Rain-Clik™ the most highly accurate operation.
Rain Bird 5000 Plus Gear Driven Rotors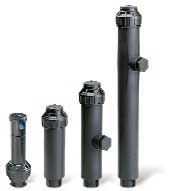 The 5000 Plus Series mid-range rotor compliments Rain Bird's already strong Top Adjust Rotor Family, by offering greater durability, enhanced Rain Curtain™ Nozzles and the superiority of Stream Control™ Technology. This innovative new rotor has been designed with the needs of the customer in mind, while still conforming to Rain Bird's high quality standards.
Whether used in a residential or commercial application, the 5000 Plus Series promises to deliver "The Next Evolution in Rotor Performance".
Features and Benefits:

The 5000 Plus Series Rotor is available in 4", 6", 12" and Shrub models.

Standard Green Rubber Cover for extra protection and easy identification

Heavy-duty cover assembly for extra durability in residential or commercial applications

Stream Control™ Technology (SCT) with Flow Shut-off capabilities

Flow Shut-Off device (cone valve™) integrated into the flow path of the rotor assures maximum stream efficiency

Flow Path to Nozzle Bore transition radius minimizes pressure loss and assures peak nozzle performance

Smoothed Flow Path entrance of the rotor, increases the maximum flow capabilities

Enhanced Rain Curtain™ Nozzles

Increased radius range with less flow per nozzle

New Micro-Ramps™ for Superior Close-in Watering

Nozzle Extraction Feature for easy rotor maintenance

Debris Sentry™ integrated into the turret of the rotor, protects the internals from debris

Heavier-duty retract spring assures positive pop-down

Tree of nozzles including low angle (Angle of Trajectory 10º) and standard angle Rain Curtain™

Nozzles (Angle of Trajectory 25º) provides 23 to 50 (7 to 15,2M) distance of throw

Top-adjust arc adjustment requiring only a flat-blade screwdriver

Five-year trade warranty

The same water-lubricated gear-drive mechanism as the 5000 Series Rotor.

40°- 360° Arc Rotation and reversing full circle rotation in one. (A non-reversing full circle only unit is also available)

Radius adjustment screw allows up to 25% radius reduction without changing nozzles

Pressure-activated multi-function wiper seal protects internals from debris and assures positive pop-up and retraction

Reinforced flow path for additional side load strength

Additional o-rings and seals for extra protection in "gritty" water

Optional stainless steel riser helps deter vandalism on public turf areas
Part Circle units (PC) are adjustable from 40° – 360°. Full Circle units (FC) are 360° only.