Hunter SRC Plus Controllers

The SRC Plus combines ease of use and easy installation in a value-priced controller.


For economy and versatility in a residential or light commercial system, this is the controller that continues to set the standards.
Simply put, no other competitively priced controller offers you as many features as the Hunter SRC. A full three programs, each with four start times...dial programming and a large display for quick set-up...a built-in 365-day calendar clock to accommodate odd/even watering restrictions and eliminate monthly reprogramming hassles...a convenient rain sensor bypass circuit...your choice of 6- or 9-station models...it's all here in this solidly built command center housed in a rugged cabinet to provide a polished, professional look. And it's all priced with economy in mind. Who said that sophisticated technology and built-in convenience had to be limited to the most expensive products? With the SRC, there's no need to pay more to get all of the features you can get right here for a whole lot less.
Dial programming
Easy program entry for installers and end-users
3 programs (A, B and C) with multiple start times
Accommodates repeat watering requirements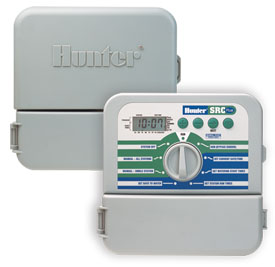 365-day calendar
Accommodates odd/even watering restrictions, maximum flexibility
Rain sensor bypass
Quick override of rain sensor, no separate switch required
Large wiring compartment terminal strip
Fast installation, extra space to work
Language customization kits available
Accommodates Spanish, French, Italian, Portuguese or German
Options: SRR Remote, ICR Remote, Sensors, ET System, IMMS™

Hunter XC Controller


Entry-level residential controller with extra flexibility, features, and memory.
The new Hunter XC presents handy water management control in a compact, user-friendly controller that is capable of meeting the irrigation requirements for a wide range of residential landscapes. Simply put, the XC brings a whole lot extra to a small controller. Like extra power…the XC offers a choice of 2-, 4-, 6-, and 8-station models, each with plenty of might to operate one or two valves per station plus a pump start relay or master valve. Extra features…including global seasonal adjustment and a 365-day calendar to make water savings easier, plus a default system that permits retrieval of the original program entered into the controller. Extra flexibility…with three programs (each with four start times), multiple scheduling formats, and the ability to select sensor input by station. And extra memory…with a non-volatile on-board program backup and a high-energy lithium battery for timekeeping to assure you'll never have to reprogram the controller due to power outages. The choice for those who demand outstanding reliability, the XC is where to turn for extra peace of mind.

Easy dial programming
Enhanced dial and push button programming makes the XC easy to operate
Global seasonal adjustment (0% to 150%)
Easy on-screen adjustment alters the amount of watering to accommodate changing weather conditions
3 independent programs with 4 start times each
Accommodates a wide range of watering requirements
Non-volatile memory Excellent insurance against unreliable power; retains current time, day, and program data
Choice of independent day scheduling
For maximum watering flexibility (select days of the week, true odd/even, or interval watering)
Weather sensor compatible
The XC is compatible with rain, freeze, wind and other micro-switch type sensors. Each station can be programmed individually to accept or override the weather sensor input.
Easy-retrieve memory
Ability to retrieve your preferred program, stored in backup memory
Replaceable lithium battery (included)
For backup timekeeping and to enable remote programming of the controller

Hunter Pro-C Controllers

The Pro-C features a removable face plate so the controller can be programmed anywhere!

Pro-C: A Complete Family of Full-featured Residential and Light Commercial Controllers
For the end user, for the contractor…there has never been a residential and light commercial controller so remarkably easy to handle as this. Presenting the new Hunter Pro-C Controller. Borrowing the innovative concept of modular design from its big brother, the ICC, this latest addition to the Hunter product line-up is destined to become the leading controller in its market segment in the years to come. Starting with a base model of 3 stations, it is possible to expand the controller up to 12 stations simply by adding plug-in modules. So, there's no need to bring along a variety of different-sized controllers to see which one is best for the job. With its ability to customize to the particular size you need, the Pro-C will always be the right choice. A modular system also makes inventory a breeze for contractors – there are only three different units to stock (indoor cabinet, outdoor cabinet and station module). But, modularity isn't all this controller has to offer, with great features such as three programs with multiple start times, independent day scheduling options, "one touch" manual start and rapid advance, a programmable event day off, robust heavy-duty locking plastic cabinet, and superior surge protection. The Pro-C controller: delivering maximum flexibility for landscapes that require a minimal number of stations

Versatile modular design
Simplified inventory management; easily customize unit to desired number of station
Large LCD display for simplified programming
Easy to read for schedule review and entry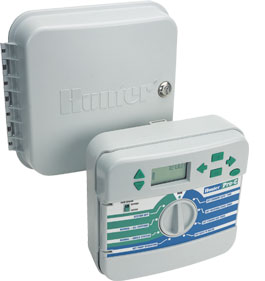 Three programs (A,B,C) with multiple start times
Independent programming handles many different watering requirements
Choice of independent day scheduling options
Days of the week, odd/even or 31-day interval for maximum flexibility
Global water budget/seasonal adjustment
Easily change run time of all zones from 10% to 150%
Non-volatile memory
Holds programs indefinitely;
excellent insurance against unreliable power
Superior surge protection and self-diagnostic short circuit protection
Microcircuits are protected from electrical spikes, no fuses to worry about


Hunter ICC Controllers

The Universal Modular Controller for Residential & Commercial Projects

This new controller is the ideal choice to run irrigation systems at virtually all commercial sites - schools, parks, sports fields, hotels, apartment buildings - because it is "built" by combining sets of 4- or 8-station "modules." Such personalized construction allows custom tailoring that more effectively handles the odd number of stations a system may require. In addition, all the features one could want are here including dial programming, a large easy-to-read display, programmable master valve, 365-day calendar clock, rain sensor bypass, seasonal adjustment that adapts to changing climatic conditions, and Hunter's simplified user set-up. With its ability to handle up to 48 stations, the ICC offers the ultimate in flexibility for accommodating the different irrigation needs for turf, shrubs and flower beds, as well as any special watering restrictions.


Versatile modular design
Provides easy addition of more stations and simplified inventory management
4 fully-independent programs
Each with separate day cycles and 8 start times, offering total flexibility for complex landscapes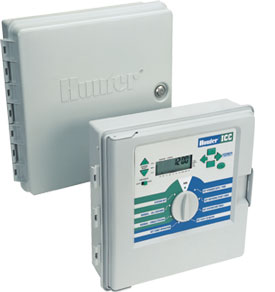 Independent day schedule options for each program
Maximize scheduling choices (select days of the week, true odd/even days, skip days up to 31 days)
Non-volatile 100 year memory
Program data is retained during power outages, without need for battery
Programmable pump circuit by station
Use pump only when needed; accommodate dual water sources
Cycle and Soak capability by station
Allows run times to be divided into repeat cycles to minimize run-off
Remote control ready
Supplied with connection for SRR remote control and SRP PC programmer.

Hunter ACC Controller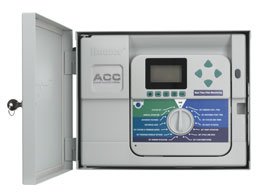 Hunter's most powerful controller for command of large and sophisticated sites
The ACC brings the convenience and versatility of modularity to the most advanced controller the company has ever created. The adaptable modular design not only allows configuration to the number of stations you desire, it also makes it easy to

upgrade to true 2-way communication with a Hunter central control system. Customize your controller in the field with the features you need: plug-in modules add stations and add central control communication capability. But what truly sets the ACC apart are its many features, most notably real-time flow sensing. This feature allows the controller to dynamically respond to flow changes by station and track system water use. The ACC also boasts a total of 6 independent and 4 custom programs and the unique ability to assist the water manager in conforming to "watering windows." Plus, the ACC's large backlit LCD display offers the user a convenient means to personalize on-screen station and program names.
Real-time flow monitoring in standalone mode
Learns flow by station and automatically responds to incorrect flow
Stations expand with plug-in modules
Provides easy addition of more stations and simplified inventory management
Easy modular upgrade to 2-way communication with central control
Simple plug-in modules upgrade ACC to hardwire, modem, or radio control
6 fully-independent programs (plus 4 custom programs)
Standard programs each have separate day cycles and 10 start times, offering total flexibility for complex landscapes
Independent day schedule options for each program
Maximum scheduling choices (select days of the week, true odd/even days, skip days up to 31 days)
Non-volatile 100-year memory
Program data is retained during power outages, no battery required
Cycle and Soak capability by station
Allows run times to be divided into repeat cycles to minimize runoff
Remote control ready
Pre-wired to directly accept Hunter ICR remote control—plug and go!
Watering Window Manager™
User defines hours when no watering is allowed; will override any user-set programs that enter that time frame
Multiple sensor capability
Accommodate devices for weather and flow to provide automatic system shutoff in abnormal conditions

epair Components For the Hunter ACC Controller