Irritrol KwikDial™ Series Lawn Irrigation Controllers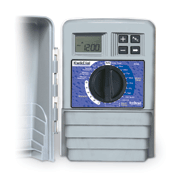 The battery-operated IBOC® Designed specifically to meet the needs of residential landscapes, the full-featured KwikDial™ Series provides three fully independent programs with three start times per program. It offers automatic, semiautomatic and manual operation, a wide range of watering intervals, and the ability to make percentage changes to watering duration for seasonal adjustments. Operation is both simple and highly flexible, and convenience is enhanced by an optional remote system for station "start/pause/resume/off" capability.



Operating Specifications
Station run times: 1-240 minutes (4 hours) in 1-minute increments.
Start times: 3 per program for up to 9 daily starts Watering day schedules: selectable per program for any days-of-the-week watering, interval watering (selectable in 1-day increments) from daily to once every 31 days, and odd/even-date watering (weekday exclusion option available in odd/even date mode; i.e. water on all odd dates except on Saturdays)


Irritrol Rain Dial Lawn Irrigation Controllers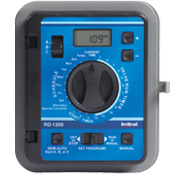 Applications
6, 9, and 12 stations
Outdoor/Indoor
Residential, Commercial
This advanced-design hybrid controller provides exceptional scheduling flexibility to accommodate a wide variety of landscape applications. Plus, its modular design offers convenient remote programming.
View new features programming guide in English and Spanish
New Key Features and Benefits

Remote-ready for Irritrol CMR-KIT & KSR-KIT-K remotes
Non-volatile memory
Water budgeting per program
365-day calendar for odd/even date watering
Master valve/pump start circuit assignable per station
Water well recovery (delay between stations)
Rain delay up to 9 days
Test all stations program
Manual station advance
Clear/erase memory by program
Electrical Specifications
Transformer input: 120 V ac, 60HZ (220/240 V ac, 50 Hz)
Transformer output: 24 V ac, .1.25 amps
Maximum output per station: 24 V ac, .5 amp
Maximum total output: 24 V ac, 1.0 amp (including master valve/pump start circuit)
Battery backup for "armchair" programming and
keeping current time and date: 9-volt alkaline (not included)
Program memory: non-volatileSpecifying information
Model Number of Stations Outdoor/Indoor
RD600-EXT 6 outdoor
RD900-EXT 9 outdoor
RD1200-EXT 12 outdoor
RD600-INT 6 indoor
RD900-INT 9 indoor
RD1200-INT 12 indoor

Irritrol Total Control® Series Lawn Irrigation Controllers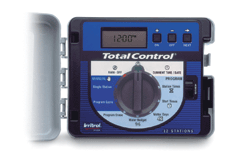 Designed for commercial, light commercial and residential use, this innovative hybrid controller offers maximum programming flexibility to handle a wide variety of sophisticated watering requirements in an easy-to-use format. Plus, its modular design ensures convenient remote programming.



Operating Specifications
Station run times: 1 minute 10 hours in 1-minute increments Start times: 16 total starts assignable to any program Watering schedule: 7-day calendar, odd/even day or interval option of 1-30 days Water budgeting; 10-200% per program in 10% increments

Irritrol IBOC® Plus Series Lawn Irrigation Controllers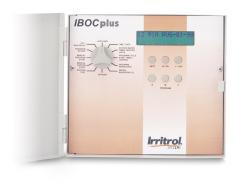 The battery-operated IBOC Plus Series hybrid controller offers unique solar-and combined solar/battery-powered options. Its outstanding scheduling flexibility provides optimum stand-alone performance in a variety of commercial and light commercial applications.

Three independent programs offer concurrent operation capability. Odd/even day calendar with day exclusion; seven-day calendar; or one to 62 skip days. Program cycle looping provides continuous program repeat operation within a selectable watering window.

Installed Irritrol® Systems, Hardie and Richdel valves must be converted from AC with 24 VDC latching solenoids (E2002)

Irritrol MC-E® Series Lawn Irrigation Controllers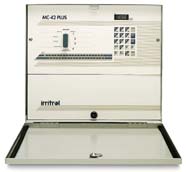 4, 6, 8, 12, 18, 24, 30, 36, 42 and
now 48 Stations
Residential and Commercial
Outdoor/indoor
With ten different models from which to choose and a host of commercial-grade features, the new MC-E Series provides a wide range of scheduling versatility for small to very large landscape applications.

Key Features and Benefits
Eight independent programs
Models with station counts from 4 up to 48
Commercial-grade, heavy-duty, lockable, weather resistant cabinets and pedestals
Large, 32-character, backlit display with programming prompts
Convertible to respond to Toro® brand Sentinel™ central control
Backward compatible face panel to existing MC Plus-B cabinets on site
Mid Summer 2007 upgrade
Flow monitoring with diagnostics and 3 types of alarms
Electrical Specifications
Transformer input: 120V ac, 60 Hz
Transformer output: 24V ac, 2.08 amps (50 VA)
Maximum output per station: 24V ac, 1.24 amps
Maximum output to valves: 24V ac, 1.8 amps (including Master Valve)



Irritrol Pedestals / Accessories
P-2B

P-6B

SPC-1

SR-1

E2002-A

PedestalsP-2B
For MC Plus-B: 4- to 12-station models; Dial-B: 7- to 16- station models; and IBOC Plus: all station models
Weather-resistant steel
Dimensions

Height: 27 5/8"

Width: 10 ¾"

Depth: 3 ¼"
Weight: 11 lbs.

P-6B
For MC Plus-B: 18- to 42-station models; Dial-B: 18- to 36- station models; and IBOC-B, all station models
Weather-resistant steel
Dimensions

Height: 35"

Width: 14 ¼"

Depth: 4 1/16"
Weight: 21 lbs.

Solar Power Converter (SPC-2)

Optional for IBOC and IBOC Plus Series controllers (includes batteries)
Pump Starter Relay (SR-1)

Enclosed in weather-resistant case

DC Latching Solenoid (E2002-A)

For Irritrol Systems, Hardie and Richdel valves used with IBOC series controllers

$237.99


$418.99


$468.99


$59.99


$64.99