Rain Bird ESP-LX Modular Controller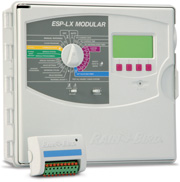 One Controller. Any Installation.

A member of the popular ESP family of controllers, the ESP-LX Modular can fit the specification from a residential installation to a high-end commercial installation. The large display and intuitive programming sequence make this the most user-friendly controller in its class. The spacious cabinet and quickconnect terminal locations make installation a snap. Features like the Contractor Default™ program with restore timer and hotswappable modules (that's right, no need to power down!) make service calls more efficient and earn you more money by taking less time!

Install it, set the program and walk away with confidence. No other controller matches the ESP-LX Modular for flexibility, reliability and ease of use.

Flexible

Perfect for residential sites or add four- or eight-station modules—without powering down— and tap into advanced programming features for commercial installations.

Reliable

Designed to virtually eliminate callbacks with power outage protection and robust circuitry that withstands surges.

Easy to Use

Proven technology, industry-leading Extra Simple Programming and large display to make programming a snap.

Flexible Programming Options Include:

Cycle+Soak™
Programmable Valve Delay
Sensor Override by Station
Master Valve by Station
Calendar Day Off
Total Program and Valve Run Times

Contractor Default™ (Backup Program) with restore timer lets you save a customized default program that can be recalled automatically up to 90 days later. This allows a temporary schedule for new seed or a fast fix if someone accidentally changes the settings.

Seasonal Adjustment by Program or Month enables automatic cutbacks in water amounts during cool weather or increases during hot weather.

Four Programs Slide Switch allows for easy program selection and reduces programming errors. Four independent programs (A, B, C, and D-drip), with eight start times each allow mixed irrigation applications in a single controller.

Large Display and Extra Simple Programming with self-prompting display in multiple languages makes programming fast and easy; Program Review lets you confirm program information.
Enhanced Diagnostic Feedback™ with externally visible light and text message alerts users of conditions that may prevent an irrigation schedule from running; RASTER™ Wiring Test quickly diagnoses field wiring, and solenoid problems.

Removeable Battery- Programmable Panel allows for convenient programming prior to installation with a 9V battery.

Dedicated Sensor Terminals with 24 VAC Power Connection enable users to easily connect a sensor for maximum water efficiency. Sensor bypass switch allows the user to override an active sensor. Sensor override function allows the user to override an active sensor by station.
8-Station Base Model can be expanded up to 32 stations with hot-swappable modules in four- or eight-station increments without powering down.

Heavy-Duty Locking Cabinet with an internal junction box is spacious for a clean, professional-looking installation.

Program Protection maintains irrigation schedule in non-volatile memory for 100 years and the time/date with a lithium battery for ten years during a power outage.

Compatible with the Rain Bird IQ™ Central Control System.

Additional Features:

365-day calendar with leap year intelligence for one-time date and time setting.
Five cycle modes (CUSTOM, CYCLICAL, ODD, ODD31, or EVEN) selectable by program for maximum flexibility and watering restriction compliance.
Calendar-Day-Off option to set any day of the month as a non-watering day for all programs (in any cycle mode) accommodates special occasions and unique watering ordinances.
User-selectable languages: English, Spanish, French, German, Italian, Portuguese, and Chinese (optional).
Programmable rain delay enables system to stay off for a specified period with an autorestart.
Readily accessible manual watering function (right on the dial!) to operate a single valve, several valves, or an entire program. Manual watering operation will not alter the programmed watering schedule.
Programmable Valve Delay to allow for water well recovery or time for slow-closing valves to turn off.
Cycle+Soak™ by station allows total irrigation time to be split into usable cycles, minimizing runoff.
Master valve/pump start circuit, programmable by station, for optimal irrigation control.

Operating Specs:

Station timing: 0 to 12 hours for all stations (0 to 120 minutes selectable in 1-minute increments; above 120 minutes selectable in 10-minute increments).
Automatic Starts: 8 start times per program on the quarter hour for up to a total of 32 start times per day if using all four programs.
Independent programming schedule options variable per program: CUSTOM day-of-the-week, ODD day watering, EVEN day watering, and variable day cycle from 1 to 31 days.

Dimensions:

Width: 14.32 in. (36,4 cm)
Height: 12.69 in. (32,2 cm)
Depth: 5.50 in. (14,0 cm)

Electrical Specifications:

Input required: 120 VAC ± 10%, 60Hz
(International models: 230 VAC ± 10%, 50Hz; Australian Models: 240 VAC ± 10%, 50Hz)
Output: 26.5 VAC 1.9A
Power back-up: Lithium coin-cell battery maintains time and date while nonvolatile memory maintains the schedule
Multi-valve station capacity: Up to two 24 VAC, 7VA solenoid valves per station plus a master valve


Rain Bird ESP-MC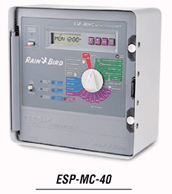 The power of an advanced water-management tool in an easy-to-use package. The ESP-MC is a commercial-duty controller for the basic or sophisticated user.
Features and Benefits:
12-hour watering duration for any or all stations to aid in drip compatibility.
Four independent programs, with eight start times each, allow mixed irrigation applications in a single controller.

Two master valve terminals, one programmable by station, to provide better irrigation control.

Programs can overlap to maximize hydraulic efficiency and minimize watering time.

365-day calendar with leap year intelligence for one-time date and time setting.

Event-Day-Off option to set any day of the month as a non-watering day for all programs.

Programmable rain delay enables system to stay off for up to 99 days with auto-restart.

Upgradable to MAXICOM® satellite.

Independent day cycle by program.

Water budget by program provides adjustments from 0 to 300% in 1% increments (up to a maximum run time of 16 hours).

Rain Bird's exclusive Cycle+Soak™ by station allows the total station run time to be split into usable cycles, minimizing puddling and runoff.

Programmable-Delay-Between-Stations provides time for water well recovery, or time for slow-closing valves to turn off completely.

Manual watering by station or program.

Sensor inputs and override switch with LED to indicate when irrigation is suspended by the sensor.

Non-volatile, 100-year memory holds program, date, and time during power outages.

Diagnostic circuit breaker identifies electrical shorts, provides a "FAULT" message on the LCD screen, skips shorted stations, and continues irrigation cycle.

Rapid Station Test Routine (RASTER™) enables the controller to diagnose and troubleshoot field wiring, solenoid, and controller problems quickly and easily.

Mounting plate and mounting bracket provide fast, secure, vandal-resistant installation

Surge protection, backed by a 3-year lightning warranty, makes the controller reliable and robust under extreme field conditions.

Quick-connect terminal strip for fast installation.

Universal remote ready: includes pre-installed connectors for addition of remote products.

Heavy-duty transformer for simultaneous operation of up to nine 24VAC, 7VA solenoids.

Removable, battery-programmable front panel for the convenience of both programming instruction and programming prior to installation.

IM Series
Seven Program Solid State Controllers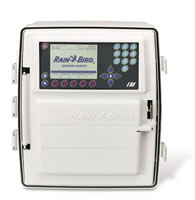 Primary Applications:
Advanced stand-alone irrigation management. The Rain Bird IM is the most flexible, full featured irrigation management system available in a stand-alone package. It offers features that maximize water conservation, it provides the flexibility to manage all aspects of your changing landscape, and it makes programming and operation easy. All of these advanced features are packaged in a reliable controller designed for rugged use and long life.
Features and Benefits:
PROGRAMMING FLEXIBILITY
Seven grouped programs with up to eight start times each
Optional independent station control
Program by volume, ET or time
14-day custom, cyclical or odd-even programming
Standard or looping program start times
365-day calendar with leap year intelligence
All programs are selectable as irrigation, drip or non-irrigation
24-hour run time per station: 1 second to 24 hours
Over 50 user-defined setup options

WATER CONSERVATION AND MANAGEMENT
Automatic shutdown when open valves exceed the defined maximum flow
Optional programming using evapotranspiration (ET) value to automatically calculate run times based on weather conditions
Cycle+Soak™ by station allows total irrigation run time to be split
into usable cycles, minimizing runoff
Water usage logs based on actual or estimated flows
Maximum flow limit to prevent hydraulic overload
Programmable delay between stations and delay between master valve and station
Water budget by program provides adjustments from 0-999% in 1% increments
Water window
Event-day off
Rain delay up to 99 days
Usage log which records your choice of station starts, programming changes and/or alarm conditions

INSTALLATION FLEXIBILITY
12-48 stations, upgradeable in four-station modules
3-12 sensors, switched or pulse inputs, upgradeable in increments of three
Three levels of password protection of setup and programming

USER-FRIENDLY PROGRAMMING
Large 15 line by 53 character backlit LCD display
Graphics make it simple to view calendars and monitor station activity
Projected schedule shows what stations will run and when
Easy-to-read table shows what happens when changes are made
Run times programmed in mm:ss or hh:mm
Convenient copy and paste command
Operator-selectable languages: English, Spanish and French
Models:
IM-12
IM-28
IM-48

Note: All models also available in 50Hz, 230 VAC
Note: Future upgrades will plug into the existing architecture.
Operating Specifications:
Simultaneous operation of up to eight stations plus three master valves
Three master valve terminals are programmable by station
Up to 12 sensor inputs, pulse or switched sensors, which can be assigned to cancel or interrupt irrigation by station
Test programs for each station as well as recording the water flows and electrical current draw (Amps)
Pause and resume operations for use during maintenance
Choice of resuming programs in progress or where interrupted
Electrical Specifications:
Heavy-duty surge protection with both relays and MOVs on each field wire circuit
Diagnostic circuit breaker shuts down short circuits while continuing to run operable stations
10-year nonvolatile memory for program and clock
Self-contained internal electrical junction box
Input required: 115 VAC +/- 10%, 60Hz (also available as 230 VAC +/- 10%, 50Hz)
Output: 24 VAC
Overload, backup fuse: 3.0 Amp SLO-BLO
UL, CSA, CE, TUV, NEC Class 2, FCC Class A and C-Tick certifications
NEMA-4 rated weatherproof cabinet
Upgrade Modules and Accessories:
Four-station upgrade module
Three switched sensor (e.g. rain shutoff) upgrade module
Three pulse sensor (e.g. flow meter) upgrade module
16-station housing and back plane
Dimensions:
The Rain Bird IM is available with up to 48 stations and 12 sensors in one compact cabinet.
WALL-MOUNT CABINET
Width: 15 3/4" (40,0 cm);
Height: 17" (43,2 cm)
Depth: 8 3/8" (21,3 cm)