Rain Bird RSD Rain Sensor
Primary Applications:
Easy to install, durable and visually pleasing rain sensor device suitable for 24VAC residential and commercial applications. This high quality product saves water and extends irrigation system life by automatically measuring precipitation and keeping irrigation systems from watering in rainy conditions.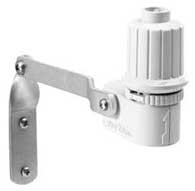 Features and Benefits:
Multiple rainfall settings from 1/8" to 3/4" (5-20mm) are quick and easy with just twist of a dial
Adjustable vent ring helps control drying time
High-grade, UV-resistant polymer body resists the elements
Available in rugged aluminum bracket version (RSD-BEx comes with 5" aluminum bracket) or conduit version (RSD-CEx) for a clean and professional look
25 feet (7,6 m) of UV resistant extension wire offers an easy connection to irrigation controllers
Works with all popular 24VAC controllers
UL and cUL Listed; CE and C-Tick approved
5-year "No Hassle" warranty
Toll-free Technical Service (800) 247-3782 (U.S. and Canada only)

Rain Bird Rain Check Rain Sensor
Primary Applications:
Monitors rainfall levels and overrides controller to prevent unnecessary irrigation.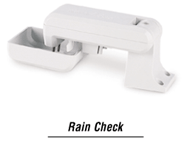 Features and Benefits:
Adjustable stainless steel sensing probes offer the flexibility of triggering the rain shutoff with as little as 1/8" (3,2 mm) of precipitation or when rainfall reaches or exceeds 1/2" (12,6 mm).
Hydro-mechanical design allows automatic return-to-normal watering schedule when water in rain collector pan evaporates.
Works with all 24 VAC controllers for maximum versatility.
UV resistant plastic construction increases operating life in harsh environments.
Solid-state design provides greater reliability by eliminating micro switches and thermal devices which may rust and/or wear out.
Rating of up to three Rain Bird solenoid valves per station allows for diverse applications.

Rain Bird WRS Series Wireless Rain Sensor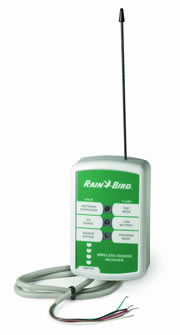 The Rain Bird WRS Wireless Rain Sensor conserves water by disabling a 24 VAC sprinkler system when rain is detected. The WRS Wireless Rain Sensor consists of two (2) main components: a rain collector unit (the "Transmitter") which senses rainfall and a receiver unit (the "Receiver") which is wired into the irrigation controller. The Transmitter sends its signal wirelessly to the Receiver, eliminating the need for wiring. The user may adjust the sensitivity of the rain collector to rainfall levels between 1/8 inch and 3/4 inch.
Features:
Wireless connection between the Transmitter and Receiver enables fast, easy, and attractive installations.
Three LEDs on the Receiver display the sensor state (Watering Suspended; Low Battery; No Signal) or mode (Sensor Bypass; Test Mode; Program Mode).
Additional Transmitters and Receivers can be programmed to work together by the installer. This allows multiple Transmitters to work with a single Receiver or one Transmitter to work with multiple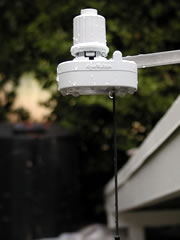 Receivers.
Low Transmitter battery indicator on the Receiver.
Loss of signal indicator informs user when two consecutive hourly transmissions have been missed.
Integrated bypass switch and status indication on the receiver.
Program Mode enables up to five (5) transmitters to work with one Wireless Sensor Receiver.
Test Mode allows a single installer to validate installation with a two and a half (2 1/2) minute test signal at low power.
Compatible with virtually all 24 VAC controllers.
Interchangeable and programmable receiver/transmitter pairs.
Models
WRC: Wireless Rain Sensor Combo
WRT: Wireless Rain Sensor Transmitter
WSR: Wireless Rain Sensor Receiver
Electrical Specifications
Operational voltage:
20 VAC – 28 VAC
Specifications:
Wireless Rain Sensor must be capable of 500 foot line-of-sight communication between the Transmitter and Receiver *. Transmitter must be battery powered and capable of lasting three (3)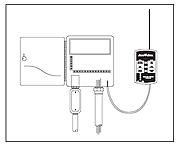 years without replacement. Transmitter must allow battery to be replaced without breaking the waterproof integrity of the electronics. Rain sensor must be water-tight and capable of outdoor installation. Receiver must be able to receive signals from multiple Transmitters. Receiver must have Sensor Bypass mechanism. Wireless Rain Sensor must be able to sense rain and interrupt the 24 VAC irrigation schedules based on a user-selectable sensitivity to rain quantity. Wireless Rain Sensor must periodically test the signal from the Transmitter. The Transmitters must be interchangeable. Any Transmitter must work with any Receiver from Rain Bird Corporation. The Rain Bird WRS Wireless Rain Sensor shall be manufactured by Rain Bird Corporation, Glendora, California.
* Wireless devices using radio frequency communications are affected by location specific conditions. The reported distance is based on ideal line-of-sight testing. Actual range may vary due to atmospheric conditions, terrain, or other forms of interference.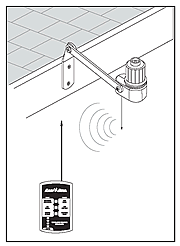 Concept of Operation:
The transmitter is mounted in an area most likely to receive representative rainfall without running a wire back to the controller. Wireless Rain Sensor sensitivity is adjusted to user-desired system responsiveness to rainfall. An RF signal is sent from the Transmitter to the Receiver every hour or when the user-selected rainfall has been received. After the Transmitter dries, a signal is sent that allows the resumption of irrigation if necessary. Receiver disables watering system through the Irrigation Controller's "sensor" connections or by interrupting the valve common. The receiver can be programmed to receive up to five (5) wireless sensors. Simple to install and test by one installer. Test Mode sends a low-power signal for two and a half (2 1/2) minutes, allowing installer to return to Receiver and verify proper operation.