Toro EZ-Flo® Plus Series

Multiple inlet and outlet configurations as well as a jar-top design give this valve the flexibility and serviceability that can meet residential applications anywhere in the world.


• Jar-top design with heavy-duty cap ring requires no screws and provides fast and easy servicing
• Broad selection of inlet and outlet configurations and choice of sizes including anti-siphon meet the installation requirements of different geographic regions and piping systems
• DC Latching Solenoid compatible
• Manual internal and external bleed provides versatility when a user doesn't want to walk back to the controller to turn on a station
• Full stainless steel metering system
• Three-year warranty


Toro P-220 Series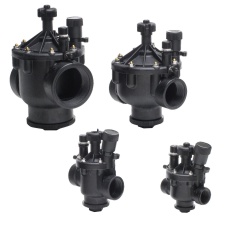 These heavy-duty glassfilled nylon valves are specially designed for commercial applications with pressures up to 220 psi, but also have the ability to pressure regulate the flow through the valve anywhere from 5–100 psi.

• The Spike-Guard™ solenoid features very low power consumption, which reduces wire size requirements, allows twice as many valves to run simultaneously on a transformer and lowers power costs
• With a lightning rating exceeding 20,000 volts, the new 220 Series brass valves offer nearly three times the lightning protection of competitive products
• Precise, pressure control option with compact EZReg™ (can be factory installed) dial design. Technology does not effect friction loss unlike competitive valves.
• Pressure regulates in electric or manual modes and is serviceable under pressure
• Standard, built-in Schrader-type valve for downstream pressure verification
• Five-year warranty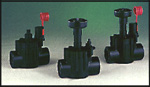 1" Electric.

Manual flow control: adjustable to zero flow (250 Series)

Manual bleed screw

Energy-efficient solenoid

18" lead wires (electric models) for easy-access installation

Self-cleaning, stainless-steel metering pin (electric models)

Stainless-steel diaphragm differential spring for smooth, positive closing

Single-piece rubber diaphragm with 5:1 ratio for reliable, leak-free valve closing

Durable engineering plastic and stainless-steel construction for exceptional durability

Tough, glass-filled Zytel cap provides stability under pressure

Effluent flow-control knob available
Flow range: 5.0-40.0 GPM

Operating pressure: 20-150 PSI maximum

1" female-threaded inlet and outlet

Solenoid: 24 V a.c.