Nelson Solo Rain Wireless Controllers
Nelson Solo Rain 8014/8014SR Actuator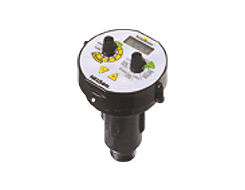 Long life factory installed lithium battery. The 8014 is designed to operate on the factory-installed battery for up to 10 years of normal use on a Nelson valve. Actual battery life will depend on the number of cycles run per year, valve size, operating pressure, and temperature. The battery is replaceable and is available as a service part.

Nelson exclusive Select&Adjust™ programming makes programming fast and easy

LCD displays clock and programming

Timed manual on and off

Length of watering time: 1 minute to 12 hours

6 watering programs available per day

Mist Cycle available on Program 6 Days of the week, Odd/Even, and Interval scheduling

Rain Delay is programmable from 1 to 99 days

Fits Nelson valve models 7900 1" series, 9000 1" series, 7951, 7952, 7953, and the 9500 1 1/2" and 2" series

Leap year compatible-automatically includes February 29th every four years

Waterproof design is submersible in up to 6 feet of water

Two-year warranty on materials and workmanship

Two wires on the "SR" version allows any normally open/normally closed sensor to be hooked up to it (switch has to be closed for the 8014 to operate). Sensors can be up to 25 feet away.