Nelson 6300 Spray Heads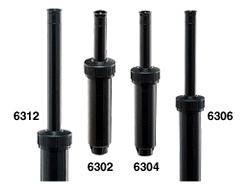 Operating range: 15-30 psi
Optimum working pressure: 30 psi
Maximum pressure: 30 psi
Sealing pressure: <10 psi
Flush rate: 0.2 gpm
Inlet size: 1/2" female
Screen mesh: .031 sq. in./790 micron

Features
1. Stainless steel adjustment screw reduces radius and will not rust.
2. Dome design cap flushes sand and debris away from piston.
3. Double-lipped wiper seal ensures that sand and debris are kept out of the body and seal.

4. One-piece filter screen and seat ensure the reliability and quality of the spray pattern.
5. Friction collar cuts installation time and allows 360° adjustment of the piston to align pattern exactly.

6. Stainless steel retraction spring assures positive piston retraction.
7. 1/2" bottom inlet is standard on all models (additional side inlet on 12" models).
8. Anti-drain valve and heavy-duty spring (Pro 6400-ADV) helps eliminate low head drainage and puddling. Holds back up to 10' difference in elevation.
Precise spray patterns eliminate wasted water and dry spots.
ABS plastic material, used on all pop-up bodies and nozzles, is proven strong and tough in sprinkler applications.
Matched precipitation nozzles apply water at the same rate regardless of arc.

Nelson Spray Head Accessories
Nelson 6300 SHRUB ADAPTER

Threads onto a 1/2" riser, allowing you to install our 6300 Series plastic spray head nozzles
Can be used in planter beds instead of pop-up spray heads
Nelson 6318 PISTON EXTENSION

Adds six inches to any pop-up--perfect for landscape areas that need extra clearance
Threads directly onto the top of the piston
Accepts all Nelson spray nozzles