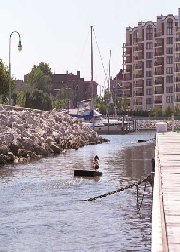 Ice-free areas are kept open by moving warmer bottom water to the surface and by simple physical movement to inhibit ice formation. Oxygen is then transferred into the water via diffusion at the air/water interface. Precise open area in winter is a function of air and water temperature, water depth, and method of mounting the unit. In certain conditions, particularly in very small, shallow ponds (3 feet or under), circulators may not be effective for ice prevention, however these types of units are more efficient than our other units at moving water and keeping an area ice-free. They do not splash water into the air and "super -cool" the water.
In summer months Kasco circulators can move water out of dead end canals or keep floating debris from accumulating around docks. Circulators have also been used successfully to move water through fish net pens.
There are three methods of installing Kasco Circulators.

ROPE SUSPENSION
The units can by mounted in either a vertical or angled position with ropes or cables.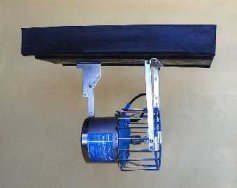 UNIVERSAL DOCK MOUNT
Kasco offers an optional dock mount, which allows for either a vertical or several angled positions.

FLOTATION KIT
Kasco circulators can be suspended from our optional float kit to create an elongated pattern of water movement. The unit rests less than two feet from the surface and is ideal for shallow water or where you do not have a dock or place to suspend the unit.
Assembly Instructions (1.32MB PDF)