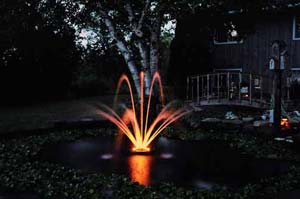 Kasco Marine's 1400JFL, 1/4hp Floating, Aerating Fountain will beautify any small backyard pond or watergarden and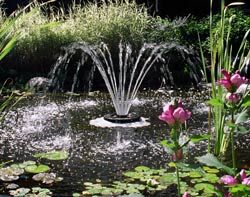 is great for use in residential applications as well as entry way ponds (1400JF without lights). The 1400JFL floating fountain design allows for 5 interchangeable nozzle heads and LED lights, while keeping a low price for our customers. The complete package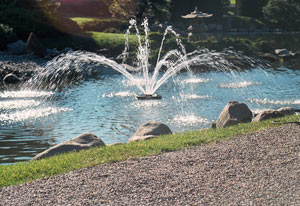 includes the completely assembled fountain, mooring or anchoring lines, 50' power cord, the 5 interchangeable nozzles, C-25 control box, and the LED light ring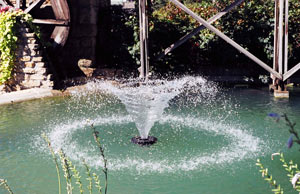 (if ordered).

The ring of LED lights that are included with this floating fountain provide ample light and 100,000 hours of expected life all while keeping your initial costs and operating expenses low. The 1400JFL Floating,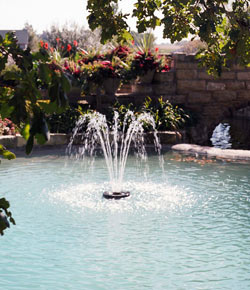 Aerating Fountain includes a Low Voltage Transformer to convert your 120V power into the 12V power used by the LED light ring. As shown in the picture to the left, the LED light ring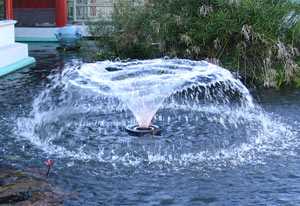 is a beautiful Amber color that will add an elegant accent to your Fountain at night.

The 1400JFL Floating, Aerating Fountain, as all of Kasco's Floating Fountains, comes with a GFCI protected control box. The C-25, 120V Control with Timer, GFCI protection, and Photo Eye for light operation, comes standard with the 1400JFL Floating Fountain. No electrician is required to install your C-25 Control or your 1400JFL Aerating Floating Fountain if an existing 120V, 15 amp receptacle is available.