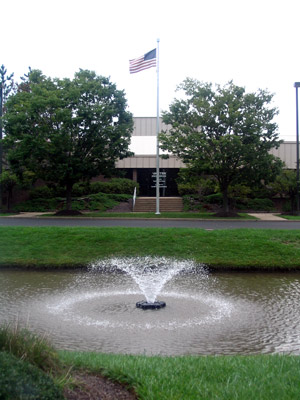 Kasco Marine's F2400VFX Floating Aerating Fountain or Decorative Fountain Aerator is great for smaller farm ponds. The 2400VFX Floating Fountain is a Kasco classic. The classic Kasco "V" pattern, now a larger 5' Tall x 15' Wide gives this model a beautiful, aerating fountain pattern that will improve water quality and aesthetics of any pond or body of water. Kasco's 2400VFX Floating Aerating Fountain does a great job of adding oxygen and improving your lake or pond aeration. The 2400VFX Floating Aerating Fountain is available in a 120V, 60Hz. Click here to download a NEW Kasco 2400VFX Floating Aerating Fountain brochure.

Adding a LR-275 Low Voltage Light Kit to the 2400VFX Floating, Aerating Fountain adds a touch of class to this beautiful fountain display during the nighttime hours. The LR-275 Low Voltage Light Kit includes two machined, bronze, light fixtures with 75 Watt MR-16 Halogen bulbs in each fixture. The LR-275 Low Voltage Light Kit has a built in transformer for easy installation. The LR-375 Low Voltage Light Kit can also be used for more light.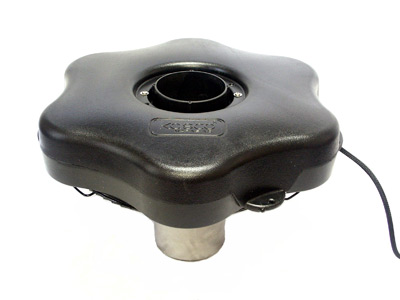 Two clear MR-16 bulbs are included with each LR-275 Low Voltage Light Kit (3 with LR-375), however, you can chose any or all of the optional colors of Red, Green, Blue, & Yellow.
The 2400VFX Floating Aerating Fountain, as all Kasco Floating Fountains, includes a GFCI protected control box. The C-25, 120V Control with Timer, GFCI protection, and Photo Eye for light operation, comes standard with the 2400VFX Floating Aerating Fountain. The Photo Eye allows you to set your timer for the hours of operation and when, during those hours, it is dark, the Photo Eye will turn on the LR-275 Low Voltage Light Kit. No electrician is required to install your C-25 Control or your 2400VFX Floating Aerating Fountain if an existing 120V, 15 amp receptacle is available.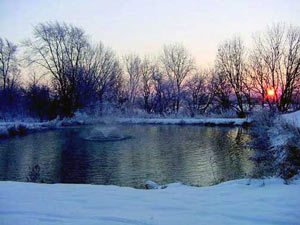 The 2400VFX Floating Aerating Fountain model includes the following staples of all Kasco Floating Fountains, Pond Aerators, or Water Circulators:
• Longer-life top and bottom ball bearings
• Environmentally friendly oil-filled motor with a hard-face internal mechanical seal and external lip seal for protection against leaks.
• Flood oil lubricated for excellent heat dissipation.
• Highly efficient, lower power consumption than competitive equipment
• Superior dependability in salt-water or other corrosive environments. All external metal motor, float, and hardware components are of stainless steel composition and protected by a sacrificial zinc anode.
• Requires minimal maintenance. We recommend cleaning the stainless steel motor housing once or twice per year and replacing the sacrificial zinc anode when visibly corroded.
• ETL listed to stringent UL and CSA Safety Standards
• U.P.S. Shippable
• Made with pride in the U.S.A.
Along with the staples of all Kasco Floating Fountains, Pond Aerators, and Water Circulators, the 2400VFX Floating Aerating Fountain boasts the following UNIQUE CHARACTERISTICS:
• Lightweight and easy to install (minimal assembly required)
• REDESIGNED FLOAT WITH LOW PROFILE AND ATTRACTIVE SHAPE!
• Large, clog-resistant decorative fountain pattern, NOW LARGER at 5' Tall x 15' Wide
• Two year manufacturer's limited warranty
• Successful shallow water operation in as little as 15"
• 5.6 running amps on 120V circuit for low operating costs
• SJTOW underwater rated power cord length options of 50', 100', 150', or 200'
• Includes two 50' braided nylon mooring ropes
• Ships in 2 boxes via UPS (add one box for lights)
Kasco F2400/VFX w/C-25 Control 1/2 HP 120V Display Aerator with Power Cord